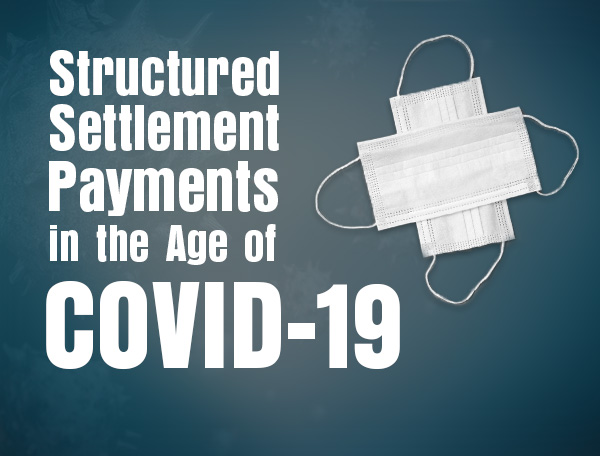 Structured settlements payments could be the key to keeping above water as the COVID-19 pandemic lingers on. Many people are unaware that selling a structured settlement for a lump sum can be a tremendous help in alleviating the financial burdens associated with COVID.
For example, if you've lost your job or have been furloughed because of the pandemic, you might feel an overwhelming sense of dread as your bills pile up. This is especially true if you are ineligible for other financial help programs. But selling a portion of your payments can help you navigate the financial ramifications of the coronavirus. In this quick 5-minute read, we'll explain what you can do right now to tackle bills if you've been affected.
No Insurance? Sell Structured Settlement to Pay Medical Bills
If you've been awarded a structured settlement, and are currently suffering a financial hardship because you don't have medical insurance, look no further than a reputable factoring company to purchase some or all of your payments.
Many people are finding themselves in a position where they've been "let go" from their jobs, and as a dire consequence, they've lost their subsidized medical coverage. Social programs like Medicaid have offered some help with medical costs, but they are often limited. Without insurance, out-of-pocket costs for COVID tests alone can easily run into the hundreds of dollars. The cost of ambulance rides, hospital stays, surgery, physical therapy and prescription drugs can run into the hundreds of thousands of dollars. If you've found yourself in a situation where medical bills are too much to handle, you may decide to sell your periodic structured settlement payments—in this way, you'd be receiving an influx of cash to cover copays, drug costs and more.
Losing your job and consequently, losing your medical coverage doesn't mean you have to suffer with medical debt.
Avoid Eviction and Foreclosure
The COVID-19 pandemic dealt a heavy blow to many Americans – according to the U.S. Bureau of Labor Statistics, some 2.4 million people had been out of work for 27 weeks or more by October 2020. If you are among them, you may also be facing another challenge: paying your rent or mortgage. Selling your structured settlement payments could potentially save you from eviction or foreclosure.
If you're behind on your rent payments or are in trouble with your mortgage company, take a look at the total amount of your settlement, the number of payments you have left, and when they're due to be paid out. From there, you can make the determination of whether and how many payments you'd like to sell to pay your rent, mortgage, or other obligations.
The bottom line is that late rent payments, eviction, and foreclosure all can have long-term, negative effects on your credit. And of course, in the most dire of circumstances, homelessness could become a reality. While some property owners have offered some leniency early on in the coronavirus pandemic, many of them are now demanding payment. Selling your settlement payments can offer up a lifeline to pay your property owner, and ultimately keep your financial standing intact.
Sell Structured Settlement for Online Professional Training
If you're out of work as a direct or indirect result of the COVID-19 pandemic, you might take the opportunity to hone your skills by way of an online professional training course; you may even want to earn an advance degree online. But how would you pay for it when you're not earning a paycheck?
Selling your structured settlement could provide the tuition money you need to beef up your knowledge in your industry (or a brand-new industry). Schools across the country are now offering online courses as students quarantine.
According to U.S. News's 2020 list of Best Online Bachelor's Programs, the average online bachelor's degree ranges from $38,496 to $60,593 in total program tuition costs. On average, public online bachelor's degrees for in-state students can range from $38,496 to $54,183. At private colleges tuition is $60,593 on average. The cost of books and other supplies also comes into play.
Choosing to sell all or some of your structured settlement payments can make going back to school (during the pandemic) easier. It's peace of mind on the financial front so you can focus on achieving your academic goals.
Without a doubt, COVID-19 has flipped society on its head—so many are struggling to make a living and make ends meet. If this sounds like you, but you have a structured settlement, consider selling it for a lump sum. The money is yours, which means you don't have to pay it back.
Connect with RSL Funding today for a free, no-obligation quote. The team is standing by.