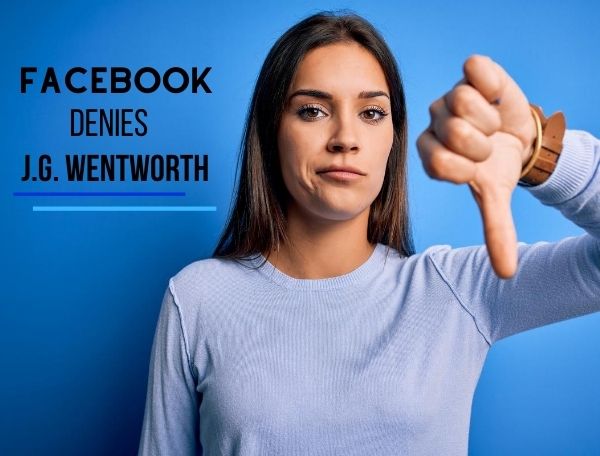 Structured settlement factoring company, J.G. Wentworth lost its trademark claim against competitor, RSL Funding ("RSL") (Facebook appeal reference number 695552397658567).
On July 14th, 2020, J.G. Wentworth reported two of RSL's Facebook posts to administrators for 'violating its trademark rights'. The Facebook posts informed the public about J.G. Wentworth's questionable business practices. J.G. Wentworth claimed that RSL used the Wentworth trademark without permission '…in connection with the sale or promotion of goods or services' and 'that use is likely to confuse consumers about the source, endorsement, or affiliation of the goods or services.'
After an appeal by RSL Funding, Facebook held against J.G. Wentworth and in favor of RSL Funding.
The recent disputed Facebook posts were part of RSL's online marketing campaign, "You've Likely Been Ripped Off By JG Wentworth" The campaign raises awareness of how Wentworth's questionable business practices stop customers from getting the most money possible for their structured settlement, lottery, and annuity payments. The campaign also highlights that RSL Funding offers customers an average of $7,000.00 more per transaction than J.G. Wentworth†.
"The factoring industry is competitive, with customer decisions primarily driven by which purchasing company offers the highest lump sum for their payments. RSL's campaign sheds light on J.G. Wentworth's tactics and is encouraging customers to shop around for the highest offer," said RSL Funding CEO, Stewart Feldman.
Through first-hand consumer accounts, reviews of public court documents, and more, RSL uncovered many of the questionable practices that J.G. Wentworth uses to suppress competitive offers. The campaign exposes how J.G. Wentworth confuses customers into accepting lower offers by operating under the Peachtree, Stone Street Capital, and Olive Branch brands. RSL Funding also found that J.G. Wentworth routinely and unlawfully redacts customer information on court documents so that competitors can't offer customers higher lump sum amounts.
"This denied trademark claim is just the latest example of J.G. Wentworth attempting to prevent competitors like RSL from offering customers larger lump sum cash offers for their payments. Whether it's reporting posts to Facebook, which point out how customers are ripped off, or illegally hiding information on court documents, J.G. Wentworth goes to great lengths to prevent customers from getting the Most Cash for their payments. Facebook agreed with RSL Funding that J.G. Wentworth's accusations were unfounded," said RSL Funding's V.P. of Marketing, Eric Steinmetz. "It's our goal to make customers aware of these questionable practices so they can be better informed and get the highest cash offer for their payments."
About RSL Funding
RSL Funding buys structured settlement, annuity, and lottery payments for the Most Cash and has paid hundreds of millions of dollars in lump sum payments to thousands of customers nationwide. RSL continues to support customers with integrity, diligence, and transparency. With an A+ rating with the Better Business Bureau, RSL Funding is committed to providing customers with excellent service. For more information, call web_phone.
†J.G.Wentworth claim: Based on an analysis of competitive lump sum offers reported by potential customers during 2018, RSL Funding offered customers lump sums that were over $7,000.00 greater on average than offered by J.G. Wentworth in exchange for the same structured settlement, annuity, or lottery payments.